go to :
Equipement Fittings - Preparation - Working - Safety - References
Wipika control bars are especially developed for the Wipika wing. In fact it 's not only a control bar but a combined control and safety device.
We recommend using it for kitesurfing, boats, buggying... but not for bodydraging (because of the particular position, any control-bar can hurt your face).
Two lengths are available: 80cm and 95cm. Our advice: order a short one with a 5m2 wing and a long one with a 8.5m2;. If you intend to order 2 wings but only want one bar, order a 95cm boom.
Caution: do not use with parakites or other kites, which probably do not depower when you open the quick release.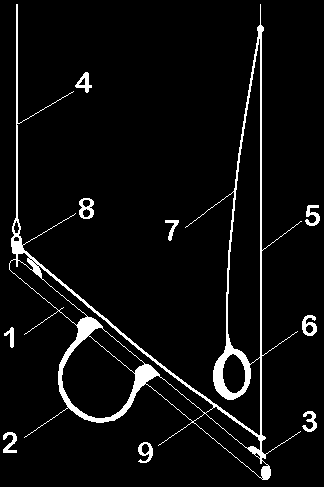 EQUIPMENT Fittings
1/ Foam covered aluminium bar
2/ Harness line
3/ Winders
4/ Left control line
5/ Right control line
6/ Wrist-band
7/ Wrist-band elastic line
8/ Quick release
9/ Quick release line

- Display the boom on the ground (1) and its lines (3,4,7).

- Connect the extension lines to the knots 3m above the boom and check if everything is clear (no tangling or twists).

- When you're ready to take-off with your wing , attach your wrist-band (6) take the boom, then launch the wing.

NEVER HOOK IN TO YOUR HARNESS-LINE DURING TAKE-OFF
OPERATING


- Pulling the boom to the right sends the wing to the right.
- If you wear a sailboard harness, the harness-line (2) allows you to hook in to reduce effort. Ajust it to your size with the rope included and fix the two ends close to the middle of the control-bar.
If it's too long for you, cut off part of the plastic tube.
DON'T USE A HARNESS IF YOU ARE A BEGINNER
NEVER HOOK-IN TO THE HARNESS WHEN YOU ARE ON DRY LAND OR THE BEACH
- The winders (3) allow you to tidy the lines after use to avoid tangles.
Make 1 or 2 half-hitches to block the lines when wound-up.
SAFETY


Your control bar includes 3 safety devices :
1st level : You want to depower your wing because you are temporarily over-powered or because you want to stop sailing for a while. But you want to be ready to restart quickly : let your boom go, it will stop after a few meters, the wing will immediatly flatten and fall (if, by mistake, you loose your boom while sailing, the same thing will happen)
You just need to pull on the wrist-band line (7) and to catch the boom to be ready again taking-off the wing.
CAUTION : don't let your boom go if someone is down-wind from you, It's potentially very dangerous. Beware of the objects & obstacles too.
2nd level : You really are overpowered and can't un-hook to release the control-bar, or you just returned to the beach, but there are too many people to let the boom go: quickly pull on the quick release (9), that will open the quick- release (8), releasing the left line (4) and flattening the wing.
You will not loose your wing as it is attached to your wrist.
3rd level : Sometimes, it can be a good idea to release the wing, even if you loose it (wing caught by a motor boat for example) : let the boom go then open the wrist-band (6).