CHAPTER II : THE BIRTH OF THE MARINE WING

Click photos to enlarge

Dominique during the first sailing test using
a dual line kite with the catamaran tender.
Dakar May 1984
The first kite stack using the Jacob's Ladder effect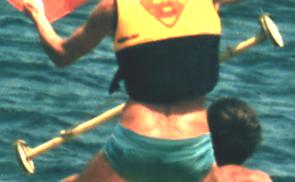 To take off this stack, a one meter long control bar with line reels was built.
The first tests were made with boards but the kite stacks were so difficult to launch that they found water skis easier.
After a few months, they came to the conclusion that stacked kites were not the way to go, and that a frame of inflated tubes was the answer.

To make larger kites, they had to return to Brittany and abandon the plan of sailing around the world tour, and so back to Brittany they went.

| | |
| --- | --- |
| First high speed sailing with a single inflated wing and skis. October 1984 | They participated their first Brest Speed Sailing Week in April, 1985, winning the Innovation Award, and participated two others in 1986 |

The goal was to get into an R & D and manufacturing arrangement with sailboard sail manufacturers, but the time was not right. The sailboard market was at its peak and everybody considered windsurfing as the ultimate sailing.

At that time, their kites were just prototypes. They couldn't go upwind with skis or boards, so they worked for years on skis, boards, boats and kites, and dabbled in several other ideas, looking for a market.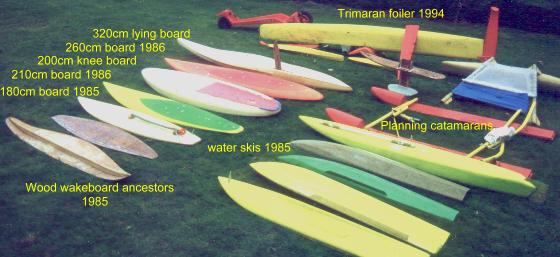 A small part of the Legaignoux's prototypes

In 1985 and 86 they built their most efficient wings, with a very high aspect ratio and completely double skinned. But they were heavy, especially when wet. Worst of all, they were so unstable that just keeping the kite flying required a great deal of effort..

They felt that their sport could grow faster if the wing was more stable.
Bruno demonstrates their system at La Torche in 1987 during the World Cup using the larger 17m² wing they had made.
When this photo was taken, the wind was too light for the funboarders to race. They waited on the beach.It was possible to ski with 5-6 knots wind, with the limiting factor being the ability to relaunch the wing.
A long search and dozains prototypes later the stability problem had been solved by 1988-89. The refined design was also of lighter, single skin construction; much easier to launch and control.

The kite was almost ready for production, but they still had not found skis or a board able to go upwind. Sure, they had made at least 10 boat prototypes with good upwind ability, but they were either too large, too heavy or too costly, bearing in mind that they had a design target of under two metres in length and less than 10 kg in weight.

Attached to the front beam of a 3m rigid catamaran,
launching the cat was easy. (For steady steady winds only!)
CHAPTER III AVAILABLE IN A FEW YEARS !
All photos are © copyright WIPIKA, D&B Legaignoux.