CHAPTER I : THE VISION
Click photos to enlarge.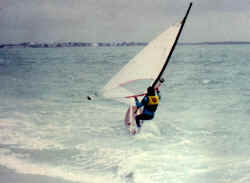 Dominique and Bruno Legaignoux learned the art of sailing at ten years of age on the Brittany coast of France.
Very early on they started competing in dinghy racing and became French Junior Champions in 1979.
After 10 years of dinghy racing (Optimist, Vaurien, Laser, 420, 470), they quit racing and began sailing just for pleasure
Bruno on his self-made wood-epoxy sailboard in 1982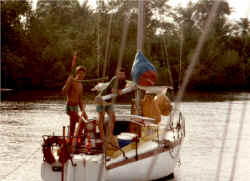 Dominique mainly surfed at the famous spot of La Torche, at which several Funboard World Cups have since been held. In the meantime, they were preparing cruising boats for their "dream": a circumnavigation.
Dominique (at the left) in Casamance - Senegal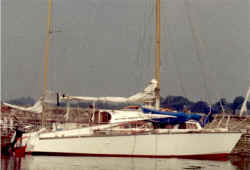 Bruno's catamaran just before The Start.
4 custom made surf and windsurf boards were attached on the deck.
After a year of open sea cruising, they met in Senegal.
Life was good, and they spent hours talking about their mutual passion of high efficiency sails and high speed sailing craft.
At first they considered rigid sails for their future cruising boat, but that discussion soon turned to kites as a natural extension of inclined sails.
They recalled the Jacob's Ladder catamaran pulled by a stack of kites, seen at the Brest Speed Week. They reasoned that since this boat was faster than an identical boat with a high efficiency classic sail (Tornado), kites were probably an alternative to the complicated and costly high performance sails.

Another rig inspired them. It was a cross between a boardsail and a kite.
It was patented and manufactured by the Brittanian Roland Le Bail in 1982. The objective of that system was to lift the pilot in order to make higher and longer jumps than a regular sailboard rig, but its main disadvantage was the impossibility of making large sails.
There was usually someone sailing on Dakar's Hann Bay with a Birdsail when the Legaignoux brothers began their kite project.
From this, it is not difficult to see that their Vision had become: one board, one kite.
Neither brother had ever flown a steerable kite so they first made a dual-line one to understand how that worked and how to go upwind with a kite.
The advantages of kites as sails very quickly became apparent to them, and so it became their objective to develop a marine wing
All photos are © copyright WIPIKA, D&B Legaignoux.