In 1997 less than 10 riders went upwind.
In 1998 the good riders go upwind.
In 1999 everybody will go upwind with the Wipika Boards !

Who invented Kitesurfing ?
How about the board?
Two or three footstraps ?
Schools ?
Mailing list
Kitesurfing is not so new that it seems and is not a one man invention.
In the 70's, a few US people use round parachutes to pull them on waterskis


In 1977 the dutchman Gijsbertus Panhuise gets a patent where a pilot standing up on a board is pulled by a round parachute tied to his harness.

So he can be considered as the inventor although it seems that no media nor commercial back washes followed.
The swiss Andreas Kuhn sails in the middle of the 80's with wakeboard style boards pulled by a paraglider (around 25m≤). He is probably the first one jumping high and in light winds. Shown on the european TV's.
In 1984 the frenchies Dominique and Bruno Legaignoux, sailors, windsurfers and surfers, get a patent for the first self-relaunching marine wing. To promote it, they participate several International Speedsailing events in 1985 and 1986 with waterskis. During 10 years they improve their wing and test most power kite uses, making hundreds kites, boards, skis and boats. First wings sold in 1993.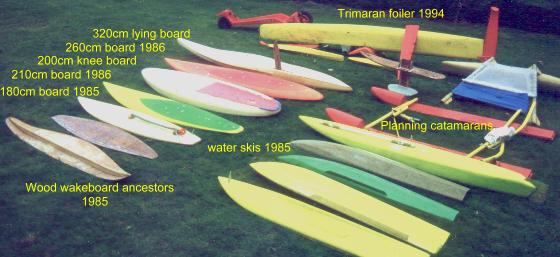 A small part of the Legaignoux's prototypes
In the late 80's, Cory Roeseler from USA prepares the Kiteski (patented and sold since1992). His technic is based on a flat kite with carbon spars associated to a control bar with brake reel which allows relaunching from water. He sails with jump skis and is the first one sailing upwind with skis. Now he also proposes a board between the waterski and the surfboard.
Untill 1992/93, a few other isolated people use power kites to propell skis and boards but they don't get media nor commercial back wash.
In 1996 kitesurfing gets a large media exposure thanks to the windsurfers Laird Hamilton and Manu Bertin using 2 strap towing surf boards with soft kites then special kitesurf boards with Kiteski and Wipika wings.
In 1997 F-One is the first company producing kitesurf boards. They were developed by RaphaŽl Salles and Laurent Ness.
In 1998 kitesurfing can be considered as a real sport. Some pilots can go upwind. Several schools start teaching kitesurfing. The first competition is held on Maui in September and won by Flash Austin, a Wipika sponsored rider.
A sport is born !

1) Purchase a special KiteSurf board
Now several manufacturers propose special kitesurf boards, in France, Netherlands, USA. Just ask for your retailer.
WIPIKA will propose a "different" board in early 99. So if you can, wait a little bit !
2) Use a surfboard or small sailboard with footstraps
The main difference with the sailboards is in strap location. Put them at least 30cm forward of a normal sailboard strap position.
Upwind ability will not be the best but it works.
3) Make your own board.
Length generally between 200 and 250cm accordingly to your weight and wind speed.
Width : 40 to 55cm
2 or 3 fins at 30cm from the tail.
The back footstrap is a bit in front of the fin.
The rails need to be thin to allow a good upwind ability.
4) Use a wakeboard or waterskis
This works too (we even sailed with 40cm long "shoes")!
But be very cautious: plan how you will get back to the beach in a case of damage or lack of wind!
Furthermore, wakeboards and waterskis are designed for flat water (and motor boat waves), not for surfing.

Actually most boards have 3 straps but the best kitesurfers can sail front side and back side.
This allows them to make radical gybes during slalom races or while surfing waves.
Fil d'Air WIPIKA FLYSURF CENTER
Olivier Blanc and Eric Pelaprat - WIPIKA International Instructors
Allee de la Plage - 109 village du Soleil - 34280 LA GRANDE MOTTE
French Mediterranean coast
Phone: +33 467 12 19 48 Fax: +33 565 600 094
Action Sports Maui - David Dorn
206a Leinani Dr Wailuku HI 96793
Phone +1 808 283-7913 Fax +1 808 244-9760
Email: hotwind@maui.net
Web site: http://www.maui.net/~hotwind
Axel'Air - Laurent Ness
Rue St-Clair - 34280 Carnon - French Mediterranean coast
Phone: +33 467 506 260 Fax: +33 467 685 425
Email: axelair@cge-ol.fr
Wind Wave Power - Fabrice Fontanez
Petite Saline - 97133 Saint Barthelemy - Caribbean sea
Phone: +33 590 297 075 Fax: +33 590 279 775
Email: fafa@virtualaccess.net
Club Mistral Barbados - Rolf Joosten
Maxwell Main Road - Crist Church - Barbados
Phone: +1-246-428 7277 Fax: +1-246-420 8291
Email: clubmistralbarbados@caribsurf.com
Kitesurf Mailing List

This list was created by Stefano Rosso, begining to kitesurf in Brazil. He is inviting
you to join this list so that you may share your Kitesurfing experiences and to
hopefully make this sport growing faster.
Read this list on the Web at http://www.FindMail.com/list/kitesurf/
To unsubscribe, email to kitesurf-unsubscribe@makelist.com
To subscribe, email to kitesurf-subscribe@makelist.com